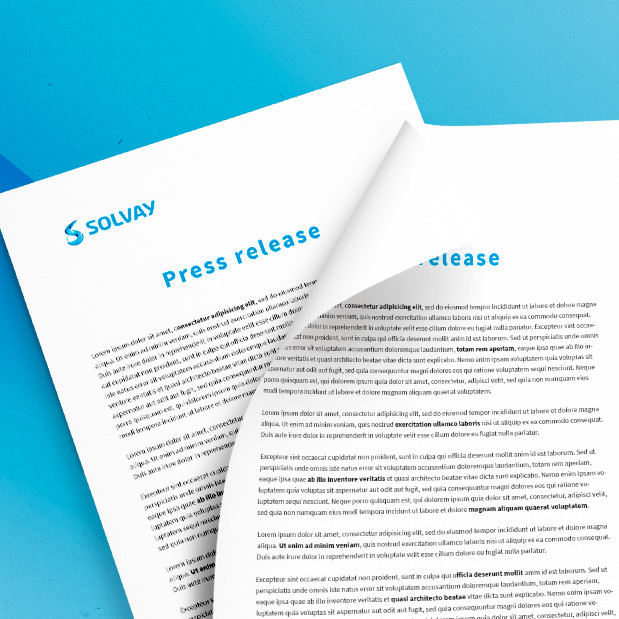 Solvay publishes supplementary unaudited pro forma quarterly financial information for 2015 following the Cytec acquisition
Brussels, March 17, 2016, 15:00 --- Solvay publishes today supplementary unaudited pro forma consolidated financial information for 2015, reflecting the impact of the Cytec acquisition as if it had taken place on January 1, 2015. This unaudited pro forma Information is presented for illustrative purposes only. Its purpose is to provide a reference frame for the Group's performance going forward. The information on the following pages comprises:
Key financial indicators per quarter, on an "IFRS" and "Underlying" basis;
Segment net sales and EBITDA per quarter on an "Underlying" basis;
Income statement per quarter, on an "IFRS" and "Underlying" basis, including the bridges;
Explanations on the bridge elements of the pro forma IFRS and underlying metrics: financing and acquisition-related costs, as well as PPA and other adjustments.       
The pro forma financial information combines Solvay's consolidated income statement with Cytec's consolidated income statement, both determined on a stand-alone basis, after alignment of accounting policies and purchase price allocation impacts (i.e. amortization of intangible fair value step-ups and recognition in cost of goods sold of the inventory fair value step-up). The pro forma information also takes into account the estimated additional financing costs related to the acquisition as well as the acquisition related costs. However, expected synergies have not been reflected.
"Underlying" figures adjust IFRS figures for the non-cash Purchase Price Allocation (PPA) accounting impacts related to the Rhodia and Cytec acquisitions, for the coupons of perpetual hybrid bonds, classified as equity under IFRS but treated as debt in the underlying statements, and for other elements to produce a measure that would otherwise distort the evaluation of the Group's underlying performance. These underlying figures are intended to provide a more consistent and comparable indication of Solvay's economic performance.
From the first quarter of 2016 onwards, the Group's results will be presented on an IFRS and underlying basis only. The former definition of REBITDA, will equate to underlying EBITDA going forward.
Follow us on twitter @SolvayGroup 

An international chemical and advanced materials company, Solvay assists its customers in innovating, developing and delivering high-value, sustainable products and solutions which consume less energy and reduce CO2 emissions, optimize the use of resources and improve the quality of life. Solvay serves diversified global end markets, including automotive and aerospace, consumer goods and healthcare, energy and environment, electricity and electronics, building and construction as well as industrial applications. Solvay is headquartered in Brussels with about 30,000 employees spread across 53 countries. It generated pro forma net sales of € 12.4 bn in 2015, with 90% made from activities where it ranks among the world's top 3 players. Solvay SA (SOLB.BE) is listed on Euronext in Brussels and Paris (Bloomberg: SOLB:BB - Reuters: SOLB.BR).
ALL THE ANNEXES & TABLES ARE INCLUDED IN THE BELOW DOWNLOADABLE VERSIONS OF THIS PRESS RELEASE.