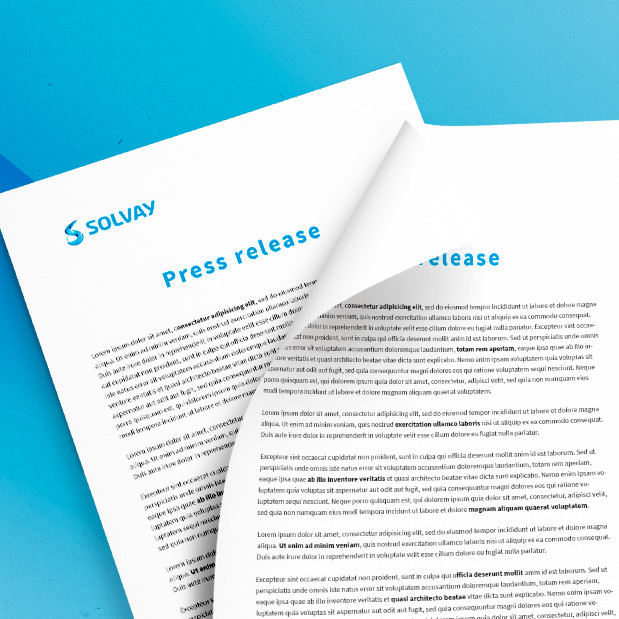 Solvay is selling its trademark Bi-Ex® to ProPHOS Chemicals
Paris -  25 October, 2017 --- Solvay and ProPHOS Chemicals announce that they have reached a sales agreement about the trademark Bi-Ex®, which includes the transfer of Solvay's trademark rights to ProPHOS.
Bi-Ex® is a powder used as an extinguisher agent for class BC fires. 
By purchasing this widely recognized trademark and producing Bi-Ex® from Solvay sodium bicarbonate Bicar®, ProPHOS Chemicals will reinforce its leading position in the segment of the firefighting market.
The sale will be effective from 1st January 2018.
Follow us on twitter @SolvayGroup

Solvay is a multi-specialty chemical company, committed to developing chemistry that addresses key societal challenges. Solvay innovates and partners with customers in diverse global end markets. Its products and solutions are used in planes, cars, smart and medical devices, batteries, in mineral and oil extraction, among many other applications promoting sustainability. Its lightweighting materials enhance cleaner mobility, its formulations optimize the use of resources and its performance chemicals improve air and water quality. Solvay is headquartered in Brussels with around 27,000 employees in 58 countries. Net sales were € 10.9 billion in 2016, with 90% from activities where Solvay ranks among the world's top 3 leaders. Solvay SA (SOLB.BE) is listed on Euronext Brussels and Paris (Bloomberg: SOLB.BB - Reuters: SOLB.BR) and in the United States its shares (SOLVY) are traded through a level-1 ADR program.
Solvay Soda Ash and Derivatives (SA&D)is a world leader in its sector, producing soda ash serving the glass, detergent and chemical markets and developing solutions based on sodium bicarbonate and trona serving the healthcare, food, animal feed, and flue gas cleaning markets. SA&D has 12 industrial sites worldwide, more than 3,300 employees and serves 90 countries.

ProPHOS CHEMICALS S.R.L. (ProPHOS), a young, dynamic and innovative company based in northern Italy, is an eco-minded producer of firefighting powders, micro granular fertilizers and flame-retardant materials. The company for more than 20 years has been producing dry powders for outbreaks of all classes of fire. In 2012, ProPHOS has been qualified with certificate to the "ethical social label" standard in relation to its vision. Such business behavior creates a commercial network that supports the process of internationalization, in place both at the European level and worldwide. New solutions for improvement and increased performance of fire extinguishing powders, flame retardants and fertilizers are studied on a daily basisby ProPHOS R&D team. The company is the owner of some patents. ProPHOS operates according to the requirements of UNI EN ISO 9001:2015 standard and UNI EN 615:2009. The quality of products is confirmed by the approvals obtained by the European certifying bodies such as MPA Dresden (Germany), CNPP (France), and TSE (Turkey). In 2016 ProPHOS won an European competition (HORIZON 2020 – Sme Instrument program) with the project "PhoSave – Innovative solution for phosphate recovery from exhausted extinguishing powders".

Contact us
Cécile Fages
Sustainability & Communication Director