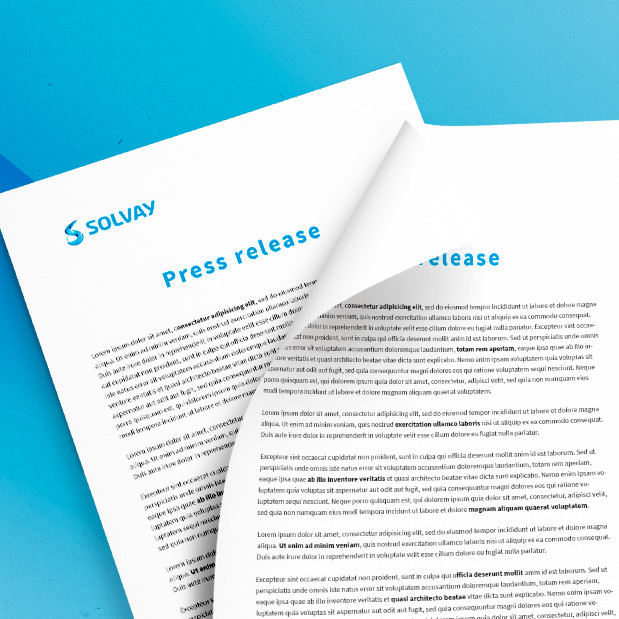 Solvay Successfully Concludes LIFE+ GLEE Project for a Sustainable Alternative Technology for the Manufacturing of Li-ion Battery Materials
Bollate, Italy, July 28, 2016– Solvay has announced the successful conclusion of the LIFE+ GLEE project, a highly focused sustainability program the aim of which was to replace organic solvents with water in the rechargeable lithium ion (Li-ion) battery manufacturing process.
Because cathode materials are usually water-sensitive, well established rechargeable Li-ion battery manufacturing processes involves usage of organic solvents. According to REACH1 and CLP2 regulations, most of these solvents are classified as "substances of very high concern" (SVHC) because of their carcinogenic, mutagenic, or toxic effects on reproduction properties. The European Union's REACH regulation encourages progressive substitution of these solvents.
For the LIFE+ GLEE project, Solvay Specialty Polymers built a pilot plant to develop an innovative cathode protection technology which shields the active material from water contact during manufacturing. This unique technology carries no toxic risks and reduces the manufacturing costs associated with solvent recovery and re-purification processes.
The pilot plant, located at Solvay Specialty Polymers' R&I center in Bollate, Italy, has been producing the new  Li-ion battery materials since the beginning of 2015. "Lab-scale tests confirmed the advantages of this new solvent-free, green Li-Ion battery manufacturing process and Solvay Specialty Polymers is now ready for large scale batteries evaluation," stated Francesco Triulzi, Alternative Energy Open Innovation Manager for Solvay Specialty Polymers.
The LIFE+GLEE Project was partially funded from the LIFE financial instrument of the European Community under the grant agreement LIFE12 ENV IT 000712.
1 Registration, Evaluation, Authorization and Restriction of Chemicals.
2 Classification, Labeling and Packaging
Follow us on twitter @SolvayGroup
Solvay Specialty Polymers manufactures over 1500 products across 35 brands of high-performance polymers – fluoropolymers, fluoroelastomers, fluorinated fluids, semi-aromatic polyamides, sulfone polymers, aromatic ultra-high performance polymers, high barrier polymers and cross-linked high-performance compounds – for use in Aerospace, Alternative Energy, Automotive, Healthcare, Membranes, Oil and Gas, Packaging, Plumbing, Semiconductors, Wire & Cable, and other industries. Learn more at www.solvayspecialtypolymers.com.
An international chemical and advanced materials company, Solvay assists its customers in innovating, developing and delivering high-value, sustainable products and solutions which consume less energy and reduce CO2 emissions, optimize the use of resources and improve the quality of life. Solvay serves diversified global end markets, including automotive and aerospace, consumer goods and healthcare, energy and environment, electricity and electronics, building and construction as well as industrial applications. Solvay is headquartered in Brussels with about 30,900 employees spread across 53 countries. It generated pro forma net sales of € 12.4 bn in 2015, with 90% made from activities where it ranks among the world's top 3 players. Solvay SA (SOLB.BE) is listed on Euronext in Brussels and Paris (Bloomberg: SOLB:BB - Reuters: SOLB.BR).