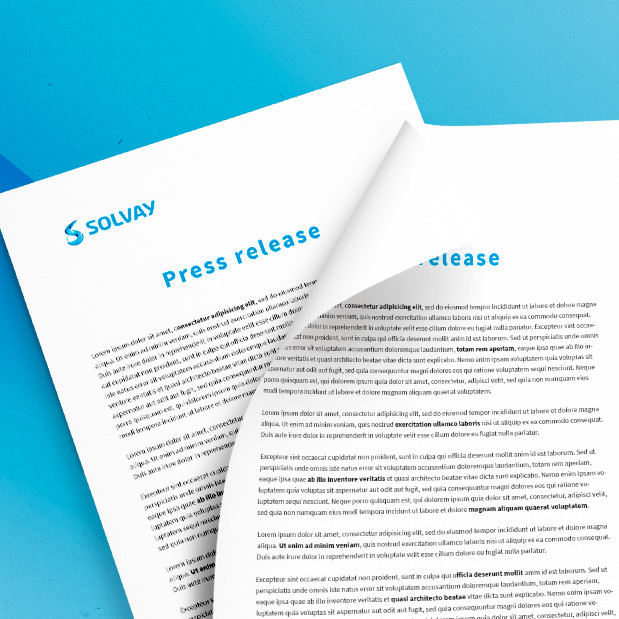 Solvay introduces new Solef® PVDF electrode binders for next-generation high-energy Li-ion battery for electric and hybrid electric vehicles
Bollate, Italy, Oct. 19, 2016 –Solvay, a leading global supplier of specialty polymer solutions, will feature at K 2016 (Hall 6 Booth C61) a new innovative Solef® polyvinylidene fluoride (PVDF) electrode binders designed to boost the electrical performance of high-energy lithium-ion batteries (Li-ion) for hybrid as well as pure Electric Vehicles (xEV).
"Battery suppliers are under tough demands from auto OEMs to enhance the performance of lithium-ion batteries for the expanding xEV market," says Prakash Raman, Global Business Development Manager Li ion Battery, Solvay's Specialty Polymers Global Business Unit. "For electric vehicles to gain a wider market share, the energy density of current lithium-ion batteries must be greatly enhanced to compete with the range and autonomy provided by conventional combustion engines. With specific focus on these needs, our new Solef® 5140 electrode binders deliver superior adhesion and outstanding performance particularly in high nickel-content cathode materials for the high-energy xEV drives."
Solef® 5140 electrolyte binders are prepared using a unique proprietary polymerization technology that allows Solvay to chemically modify the PVDF polymer and achieve ultra-high molecular weight in a tightly controlled process. These features result in enhanced adhesion and cohesion properties required for high energy electrode binder formulations for xEV battery applications. 
In addition, Solef® 5140 offers the highest cohesion between the active material particles as well as the conductive agents to ensure longer cycle life and achieve higher energy density, at even lower binder addition than ever. Its polar functional groups distributed in the fluoropolymer chain also result in lower internal resistance. Long-term stability is ensured by the binder's excellent chemical resistance in the aggressive environment of Li-ion cells, which includes organic carbonates and lithium salts. The new binder grade extends the existing family of Solvay's proven Solef® 5130 and Solef® 5120 PVDF binders for cathodes and anodes.
This new Solef® grade displays excellent performance in the high nickel (Ni) content of state-of-the-art Ni-Mn-Co (NMC) and Ni-Co-Al (NCA) high energy cathodes, especially to resist the formation of gel during slurry preparation, which distinguishes them from competitive grades.
 "As a leading supplier of advanced materials for the lithium-ion battery market, we have developed water based latex PVDF emulsions and been dedicated to its continuous elaboration, helping customers to eliminate the need for organic solvents and minimize the costs associated with solvent recovery and re-purification," adds Prakash Raman.
Complementary technologies from Solvay designed to reduce weight, enhance the structural strength and maximize the electrical efficiency of xEV Li-ion battery module/packs include a broad range of proven high-performance polymer compounds, separator coating materials and functional additives for electrolyte.
® Registered trademark of Solvay

Follow us on twitter @SolvayGroup
About Solvay
Solvay Specialty Polymers manufactures over 1500 products across 35 brands of high-performance polymers – fluoropolymers, fluoroelastomers, fluorinated fluids, semi-aromatic polyamides, sulfone polymers, aromatic ultra-high performance polymers, high barrier polymers and cross-linked high-performance compounds – for use in Aerospace, Alternative Energy, Automotive, Healthcare, Membranes, Oil and Gas, Packaging, Plumbing, Semiconductors, Wire & Cable, and other industries. Learn more at www.solvayspecialtypolymers.com.
An international chemical and advanced materials company, Solvay assists its customers in innovating, developing and delivering high-value, sustainable products and solutions which consume less energy and reduce CO2 emissions, optimize the use of resources and improve the quality of life. Solvay serves diversified global end markets, including automotive and aerospace, consumer goods and healthcare, energy and environment, electricity and electronics, building and construction as well as industrial applications. Solvay is headquartered in Brussels with about 30,900 employees spread across 53 countries. It generated pro forma net sales of € 12.4 bn in 2015, with 90% made from activities where it ranks among the world's top 3 players. Solvay SA (SOLB.BE) is listed on Euronext in Brussels and Paris (Bloomberg: SOLB:BB - Reuters: SOLB.BR).