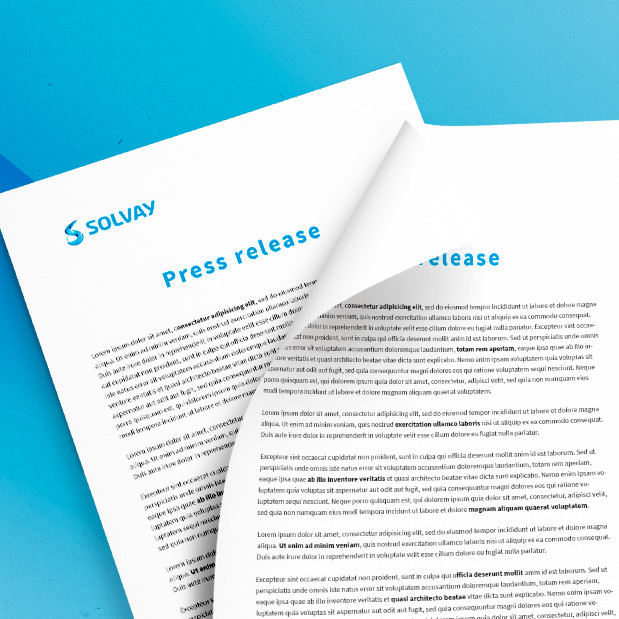 Solvay Displays Comprehensive Portfolio of High-Performance Polymers for Electric Vehicle Battery and Battery Packs at Battery Japan 2016
TOKYO, Japan, March 2, 2016– At Battery Japan 2016, Solvay will underscore its ongoing commitment to providing innovative materials for the market of high-energy, high-safety and high-sustainability batteries, with particular focus on the needs of electric vehicles (xEV).
In addition to new Solef® PVDF binders, separator coating materials, and electrolyte additives, Solvay Specialty Polymers will showcase various high-performance polymer solutions for demanding battery pack applications. The comprehensive portfolio will be on display at Solvay's Booth W28-39 in Hall West 4 during the 7th Int'l Rechargeable Battery Expo at Tokyo Big Sight, Japan (March 2-4).
According to a study by Research and Markets1, automotive electrification in the Asia-Pacific region will continue to grow at significant rates, spearheaded by an expected CAGR of 15.2 percent until 2019. Japan is a major contributor to this growth and home to several of the leading global key players of lithium-ion batteries.
"As modern technology becomes ever more complex, we expect batteries to keep pace with our increasing need for mobile energy. We want batteries that are environmentally friendly, provide more power from a smaller package, charge faster, and last longer," says Prakash Raman, Senior Vice President Solvay, and Global Business Development Manager Li-ion Battery, Solvay Specialty Polymers. "To help our customers meet their ambitious goals in this dynamic industry, Solvay offers the broadest range of high-performance materials for use in advanced automotive battery and battery-packs."
With Solef® 5130 and 5120, the company has recently introduced its new generation of PVDF binders for anodes and cathodes. While it provides outstanding electrochemical stability as a cathode binder material, Solef® PVDF can also extend the lifetime of binders on the anode side. Furthermore, it allows manufacturers to reduce the effective binder concentration in order to increase the active material, which translates to higher energy, power, longer lifetime and cost savings.
One of the most critical issues for global suppliers of high-energy xEV lithium-ion batteries is to enhance the safety of the separator, which keeps the anode and the cathode apart. Separators must ensure the highest possible level of safety under demanding operating conditions. Solvay's new Solef® 75130 PVDF, for use with today's most common ceramic coatings, exhibits excellent cohesion within the coating particles as well as high adhesion between the particles and the separator substrate. Along with good lamination performance with electrodes, these are key to obtaining a more effective and long-term, high-energy battery performance.
As a leading provider of advanced materials for the lithium-ion battery separator market, Solvay has always been dedicated to the continuous development of its water-based emulsion PVDF for separator coatings that can eliminate the need for organic solvents, thus reducing the carbon footprint of battery manufacturers as well as their solvent recycling costs.
"We are continuously improving our PVDF technology for the lithium-ion battery market," states Prakash Raman. "Solvay's new-generation Solef® PVDF separator coating and binder materials demonstrate our advanced know-how in fluoropolymer chemistry and illustrate our in-depth understanding of innovative polymer technology for anode, cathode and separator applications."
Solef® PVDF, a partially fluorinated semi-crystalline polymer, has a long history of successful applications in demanding industries such as oil and gas, semiconductors, water filtration and photovoltaics, and answers many of the material challenges in the lithium battery industry.
For structural components within the battery module, and the battery pack housing, Amodel® polyphthalamide (PPA) and other high-performance polymers from Solvay Specialty Polymers combine high-temperature stability, chemical resistance to electrolytes, dimensional stability and flame retardancy, with light weight and freedom of design. Busbar gaskets and high-voltage connectors molded in Amodel® PPA also benefit from its high voltage resistance, good flexibility and color retention. Last but not least, Galden® perfluoropolyether (PFPE) used in the liquid cooling system of battery packs, exhibits excellent electrical insulation properties, high thermal conductivity and low viscosity to replace traditional, lower safety water and glycol mixtures.
"As an important part of low-emission automotive solutions, rechargeable batteries for electric vehicles are high-technology components that must ensure optimal performance under various different and harsh operating conditions," adds Raman. "Based on years of experience and collaboration with the automotive and battery industry, Solvay has a solid understanding, the right technical capabilities and superior materials to meet these requirements both reliably and profitably."
For the electrolyte of lithium-ion batteries, Solvay's Special Chem global business unit offers advanced functional additives such as Lithium bis-trifluoromethanesulfonylimide (LiTFSI), monofluoroethylene carbonate (F1EC), Lithium triflate (LiTA) and tert-amylbenzene (TAB).
LiTFSI is used an electrolyte additive or main salt, offering high ionic conductivity for fast battery recharge, and as a result of its excellent chemical and thermal stability, it enhances the performance and safety of liquid electrolyte used in lithium-ion batterie. Both LiTFSI and LiTA are the lithium salts of choice for next-generation Li-Sulfur (Li-S) batteries. F1EC is a well-known electrolyte additive, constituting a Solid Electrolyte Interphase (SEI) coating layer with high thermal stability on the negative electrode (anode) surface, thereby improving life cycle and battery capacity. TAB has a higher oxidation initiation voltage compared to the operating voltage of the cathode, and it is used in the electrolyte of lithium-ion batteries as overcharge protection.
In addition to these commercially available products, Solvay has developed new fluorinated compounds such as difluoroethylene carbonate (F2EC), a TFEEC fluorocarbonate, and a new salt and ionic liquid derivative of TFSAR (e.g. CF3SO2NHR derivatives with R=Me) targeting novel electrolyte systems fit for new electrodes and high-voltage applications.
Throughout Battery Japan, the 7th Int'l Rechargeable Battery Expo at Tokyo Big Sight (March 2-4), polymer electrolyte and market experts from Solvay will be available on Booth W28-39 in Hall West 4 to discuss the company's offering of advanced materials and technologies for cutting-edge, safe and sustainable high-energy lithium-ion batteries.
® Registered trademarks of Solvay
1www.researchandmarkets.com/research/xx6bpz/vehicle
About Solvay Specialty Polymers
Solvay Specialty Polymers manufactures over 1500 products across 35 brands of high-performance polymers – fluoropolymers, fluoroelastomers, fluorinated fluids, semi-aromatic polyamides, sulfone polymers, aromatic ultra-high performance polymers, high barrier polymers and cross-linked high-performance compounds – for use in aerospace, alternative energy, automotive, healthcare, membranes, oil and gas, packaging, plumbing, semiconductors, wire & cable, and other industries. Learn more at www.solvayspecialtypolymers.com.
About Solvay Special Chem
Solvay Special Chem is world leader in selected specialties based on Fluorine, Rare Earths, Strontium and Barium. The GBU leverages its distinctive knowledge to provide specialized products and solutions to selected industries, such as: rare earth-based formulations for use in automotive catalysts; luminophores and polishing; NOCOLOK® fluxes for automotive heat exchangers; Solkane® 365 as foam blowing agent in thermal insulation foams; fluorinated intermediates for agrochemicals and pharmaceuticals; process chemicals for semiconductors; barium salts for electronic passive components, etc.
About Solvay
An international chemical and advanced materials company, Solvay assists its customers in innovating, developing and delivering high-value, sustainable products and solutions which consume less energy and reduce CO2 emissions, optimize the use of resources and improve the quality of life. Solvay serves diversified global end markets, including automotive and aerospace, consumer goods and healthcare, energy and environment, electricity and electronics, building and construction as well as industrial applications. Solvay is headquartered in Brussels with about 30,000 employees spread across 53 countries. In 2014, the company posted pro forma net sales of close to € 12 billion, 90% of which was generated from activities where it ranks among the world's top 3 players. Solvay SA (SOLB.BE) is listed on EURONEXT in Brussels and Paris (Bloomberg: SOLB:BB - Reuters: SOLB.BR).