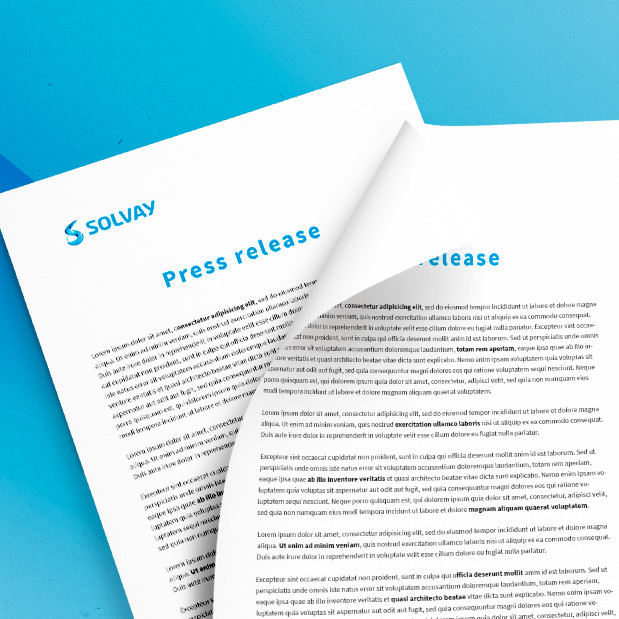 Solvay's Advanced Stabilizers for Thermoplastic Polyolefins Enhance Performance and Opportunities for Expanding Automotive Applications
Woodland Park, N.J., Oct. 19, 2016--- Solvay, a leading global supplier of performance-enhancing plastic additive technologies, announced today at K 2016 (Hall 6, Booth C61) that due to trends toward automotive light-weighting it foresees growing demand from the automotive industry for thermoplastic polyolefins (TPOs) through the end of the decade. In response to this increasing customer demand, the company is committed to continued innovation of its CYASORB CYNERGY SOLUTIONS® V Series stabilizers, which enable TPOs to meet increasingly stringent performance requirements for weatherability, thermal stability and other physical properties.
"The automotive industry is a key and growing market for TPOs, and advances in Corporate Average Fuel Economy (CAFE) standards will continue to fuel demand as OEMs seek TPOs to help them develop lighter, more fuel efficient automobiles with lower emissions," said Andrea Landuzzi, Global Marketing Manager, Polymer Additives, for Solvay's Technology Solutions Global Business Unit. "Solvay is committed to proactively engage with our customers to understand their product specifications and help them – through our stabilization technology – to translate those specifications into successful products and applications."
Solvay's world-class CYASORB CYNERGY SOLUTIONS® V Series stabilizers protect the physical properties and aesthetics of automotive TPOs against UV light exposure, extreme temperatures and other environmental factors. These advanced additives can enhance TPO performance in a broad range of automotive applications, including bumpers, door panels, instrument panels, seat back covers, pillar moldings, door trims, head and side impact areas, fender liners and flares, tail light housings and cowl vents.
While many stabilizers commercially available today offer some level of plastic protection, Solvay's advanced CYASORB CYNERGY SOLUTIONS® V Series stabilizers take protection a step further by delivering an optimal balance of processing and cost efficiencies with a high degree of performance durability. These materials allow parts to meet international standards for OEM exterior and interior weathering specifications without issues with volatile organic compound emissions, blooming or paint adhesion.
A global business unit of Solvay, Technology Solutions comprises three business lines, including mining solutions, phosphorus specialties and additive technologies. The business innovates, manufactures and delivers sustainable solutions to its customers in the mining, agriculture, agrochemicals, automotive, electronics and industrial markets, among others. To learn more about Technology Solutions' product portfolio, visit http://www.cytec.com/businesses/additive-technologies/polymer-additives.
DISCLAIMER: The data and information provided in this document have been obtained from carefully controlled samples and are considered to be representative of the product described. Solvay does not express or imply any guarantee or warranty of any kind including, but not limited to, the accuracy, the completeness or the relevance of the data and information set out herein. Because the properties of this product can be significantly affected by the fabrication and testing techniques employed, and since Solvay does not control the conditions under which its products are tested and used, Solvay cannot guarantee that the properties provided will be obtained with other processes and equipment. No guarantee or warranty is provided that the product is adapted for a specific use or purpose and Solvay declines any liability with respect to the use made by any third party of the data and information contained herein. Solvay has the right to change any data or information when deemed appropriate.
An international chemical and advanced materials company, Solvay assists its customers in innovating, developing and delivering high-value, sustainable products and solutions which consume less energy and reduce CO2 emissions, optimize the use of resources and improve the quality of life. Solvay serves diversified global end markets, including automotive and aerospace, consumer goods and healthcare, energy and environment, electricity and electronics, building and construction as well as industrial applications. Solvay is headquartered in Brussels with about 30,900 employees spread across 53 countries. It generated pro forma net sales of € 12.4 bn in 2015, with 90% made from activities where it ranks among the world's top 3 players. Solvay SA (
SOLB.BE
) is listed on Euronext in Brussels and Paris (Bloomberg: 
SOLB:BB
 - Reuters: 
SOLB.BR
).