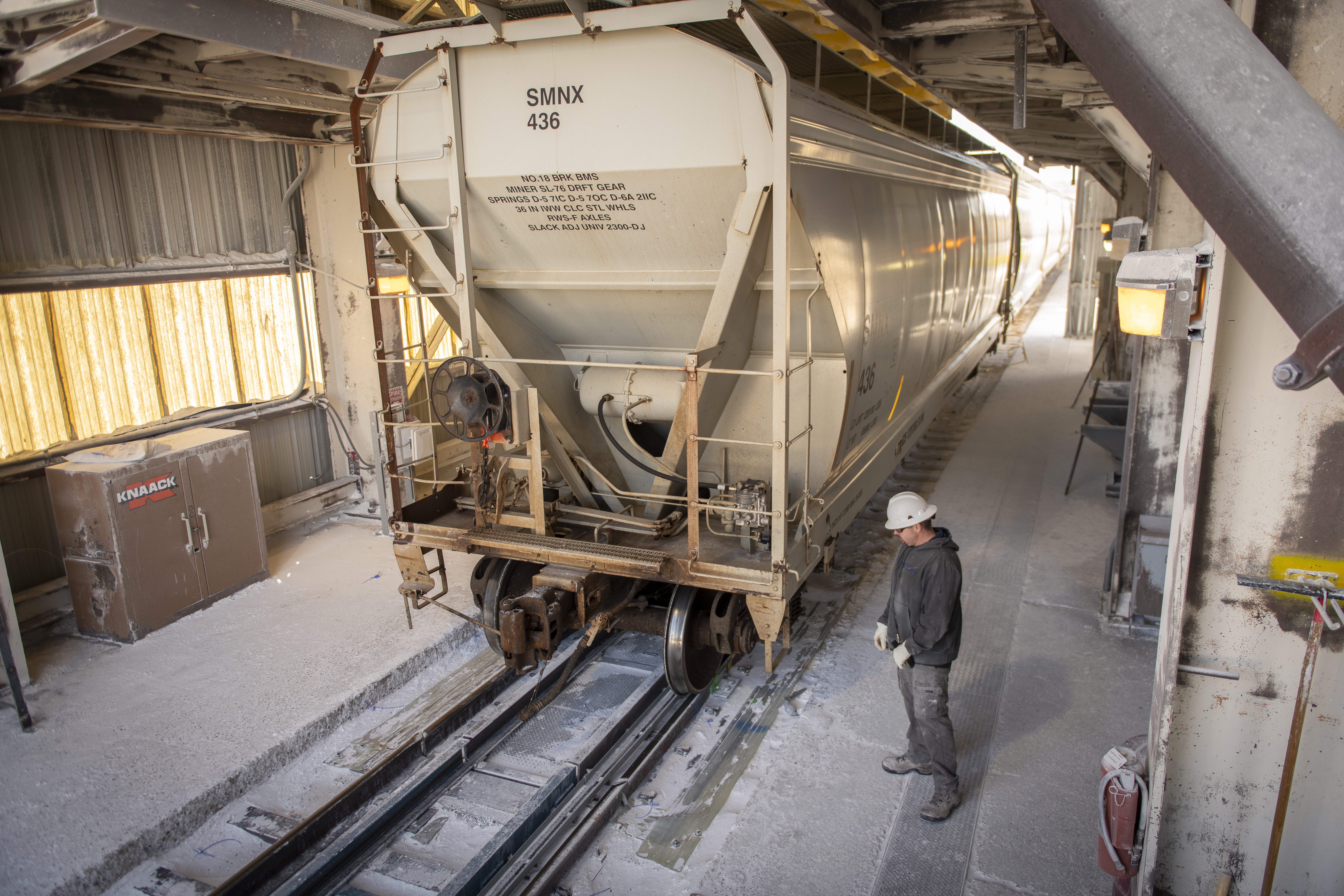 Decarbonating soda ash: every contribution counts!
When striving to reduce industrial emissions, transportation matters too
Did you know that transporting goods by rail is on average 3 to 4 times more fuel efficient than resorting to road transport? As the operator of the world's largest natural soda ash deposit in Green River, Wyoming, Solvay is constantly shipping out vast volumes of this crucial commodity and has always relied on trains to do it. As our Group multiplies efforts and initiatives to reduce the environmental footprint of soda ash production, making that rail transport less carbon-intensive too makes perfect sense.
More soda ash, less carbon
Soda ash, also known as sodium carbonate, is the 10th most consumed inorganic compound in the world and a base ingredient for glass and detergent manufacturers, among many others. Earlier this year, Solvay increased its production capacity by becoming the sole operator of the Green River site, thus strengthening our position as a trusted supplier for an ever-increasing US market.
Simultaneously, we are committed to reducing the greenhouse gas emissions of this plant (in line with our Solvay One Planet objectives ), for example by phasing out coal usage in the facility, an effort that has already enabled a 112 kiloton/year reduction of CO2 emissions as of 2021.
Improving operations and logistics also has a part to play in this decarbonation plan. We have recently embarked on a $92 million project to invest in a purpose-built railcar fleet over the next three years, reducing our carbon footprint for every railcar of soda ash shipped, while simultaneously ensuring that deliveries to our customers are more efficient and cost-effective. "Our impact on the environment doesn't begin and end at our plant, and we need to assure we are doing everything we can do to have a positive environmental impact upstream and downstream as well," says Brian Kebart, the President of Solvay's American Soda business. "We are proud to have invested in rail cars that offer a greater CO2 reduction than the industry standard.  This will not only help us in our emissions reduction journey, it is also of great value for our customers who require raw materials with the lowest possible carbon footprint."
"Many of our customers today are tackling their emissions, but investing in more fuel-efficient cars like Solvay has, that's still quite cutting-edge." 
Jacque Bendon, Vice President Industrial, Union Pacific Railroad
Partners with a common objective
Our long-standing partner here is Union Pacific Railroad: they haul our soda ash-filled cars to the cities and harbors where our customers await them. Fittingly, this historic leader in rail transport in the Western U.S. is also actively taking measures to reduce its own environmental footprint.
Union Pacific announced its goal to reduce greenhouse gas emissions by 26%, against a 2018 baseline, by 2030 and, ultimately, reach net zero by 2050. Its strategy includes improved operational efficiency and a billion-dollar locomotive modernization plan.  "We are currently working with manufacturers to increase the proportion of renewable fuels used by our locomotives, from about 4% today to eventually 20%," explains Jacque Bendon, Union Pacific's Vice President – Industrial, Marketing and Sales. "We also recently acquired the world's largest carrier-owned fleet of battery-electric locomotives, which we will be testing in L.A. and North Platte, Nebraska."
Solvay and Union Pacific are on the same page when it comes to transporting goods while emitting less CO2. "We love it when our customers focus on becoming more environmentally friendly, because we can support each other in our efforts," continues Jacque. "Many of our customers today are tackling their emissions, but investing in more fuel-efficient cars like Solvay has, that's quite cutting-edge."
Both companies are therefore hard at work overcoming their respective challenges: disposing of sufficient horsepower to haul kilotons of bulky merchandise across a continent while reducing fuel consumption for one, and running heavy-duty industrial activities while causing less emissions for the other.
But most importantly, both companies have also understood that when it comes to tackling emissions, small steps – whether investing in more energy-efficient railway cars or improving operational efficiency – matter as much as the grand gestures.