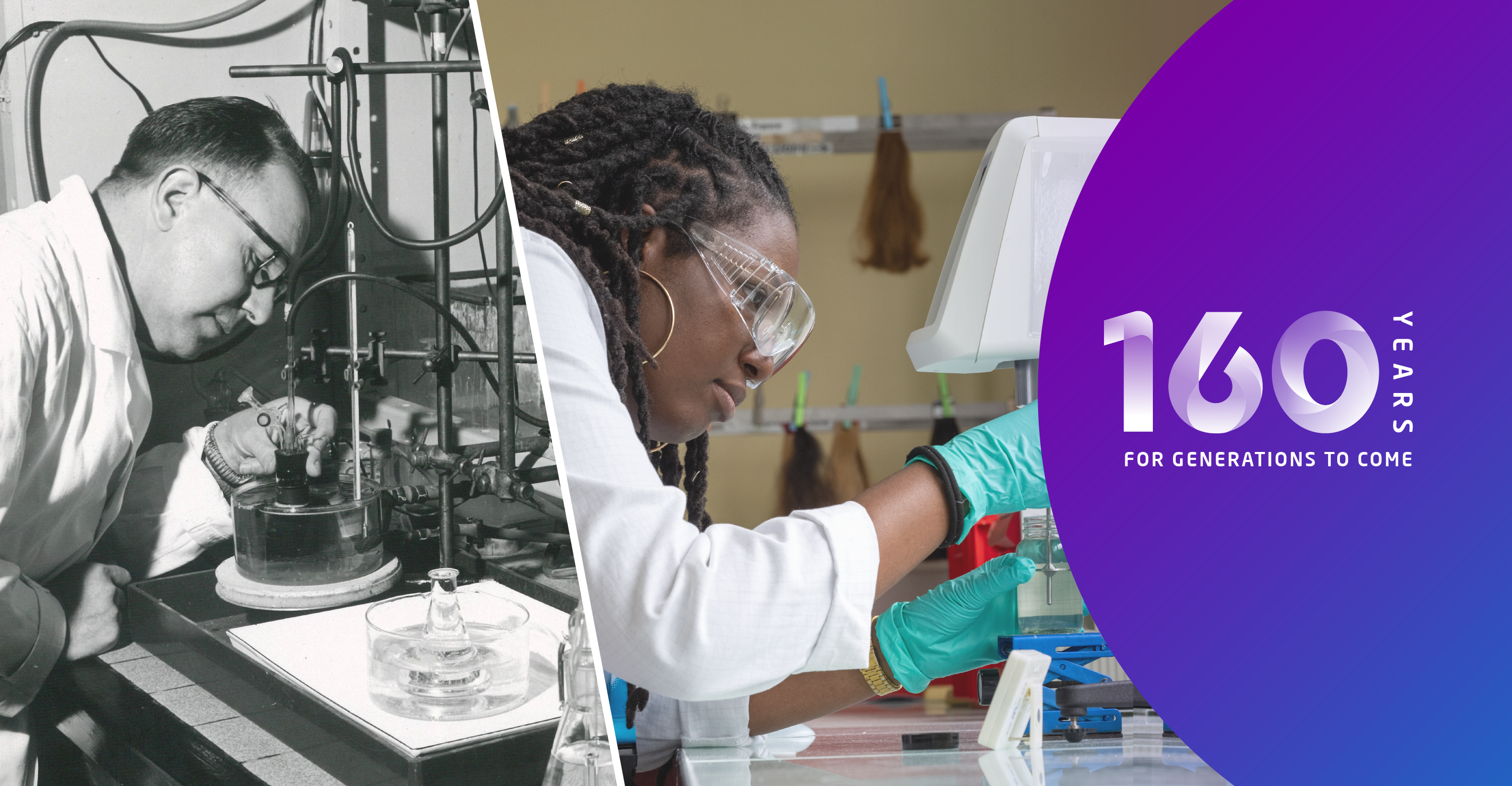 History
2008-2023
Upgrade and specialization
The last 15 years witnessed an intense transformation of the Group's profile. The divestment of the pharma business and the acquisition of Rhodia in 2010-2011 kicked-off a radical process of metamorphosis into an Essentials AND a Specialties company that is now ready to take another big step forward.
160 years
Solvay is celebrating its 160th anniversary at a moment where we will give birth to two new companies. Celebrating our heritage and passing our legacy will give even more meaning to this transition.
Unleashing Solvay's potential
In less than three years, between 2019 and 2022, Solvay transformed itself into a more customer-obsessed and performing business, reaching the ambitious targets of its G.R.O.W. strategy two years in advance and its One Solvay transformation program aimed at simplification, good-to-great operations, and growth. 
Sustainability at the heart
With the launch of Solvay One Planet in 2020 and Solvay One Dignity in 2021, Solvay raised the bar on its Environmental, Social, and Governance commitments. The Group developed an ambitious roadmap on climate, resources and better life dimensions, including carbon neutrality, circularity, sustainable solutions for its customers, diversity, equity and inclusion, and more. It also launched a Solidarity Fund providing relief and assistance to people suffering hardship.
Reinventing progress
On top of its regular business units, Solvay created four growth platforms to drive innovation in highly demanded areas: batteries, thermoplastic composites, green hydrogen and renewable and bio materials. These transversal platforms are designed to meet market needs driven by megatrends such as electrification, lightweighting and eco-based solutions… a concrete way to reinvent progress !
Diversity at the top
https://youtu.be/lyvS0g_hlcw
In 2018, Solvay announced the nomination of Ilham Kadri as its first female CEO. In an industry traditionally dominated by men, Solvay strongly believes that diversity of genders, cultures, but also of perspectives and experiences is a key asset for ensuring its permanent re-invention.
Transforming Solvay … once again
Solvay underwent a breakthrough transformation between 2012 and 2017, and becoming more sustainable, profitable, innovative, specialized, and global.
⅓
of sales in each major region
70%
of sales in growth engines
Becoming a major player in composites for a cleaner mobility
The acquisition of the American company Cytec in 2015 was the largest ever,  necessitating the first capital increase since the transformation of Solvay into a public company in 1967. Cytec previously was the chemical division of a widely diversified group called American Cyanamid, founded in 1907. It was spun off as an independent company in 1993 and specialized in composite technologies and mining chemicals. Thanks to this deal, Solvay further positioned itself as a leader in lightweighting materials for large customers in the aerospace and automotive industries.
Visual identity evolves
Over 160 years, the visual identity of Solvay evolved quite softly, with its arrow symbolizing the precipitation of soda ash into the Solvay column. Unveiled in January 2013, the Group's new logo was a visible sign of its transformation. An update was made in 2020 to express the "bonding that enables Solvay to progress beyond". 
An impulse for "green" innovation
Between 2004 and 2016 Solvay has been a primary sponsor of the Solar Impulse project, led by Bertrand Piccard and André Borschberg. The goal was to build an airplane that could fly around the world, day and night, using only solar energy. Solvay contributed extensively to the development through its research efforts, and its fluoropolymers and engineering plastics for batteries, photovoltaic cells, and lightweight constructive parts. (Copyright: Solar Impulse/Stéphane Gros.)
Creating a world scale pure player
Led by its CEO Christian Jourquin, in 2009 Solvay sold its pharmaceutical activities to Abbott and reinvested the proceeds to friendly takeover the French chemical company Rhodia. Rhodia brought strengths in the consumer goods and automotive markets. In 2012, Jean-Pierre Clamadieu, Rhodia's CEO, succeeded Christian Jourquin. It marked the first time in the Group's history that the company would be led by a CEO who had built his career at first outside the company.
Solvay's headquarters on the move
From the very beginning, Belgium and in particular Brussels has been an important place in Solvay group's history. In 2011, Solvay moved its headquarters from Ixelles to Neder-over-Heembeek, grouping all employees on a single "Solvay Campus". In 2023, a new move is on the way to a state-of-the-art estate in Haren, still in the Brussels Region.