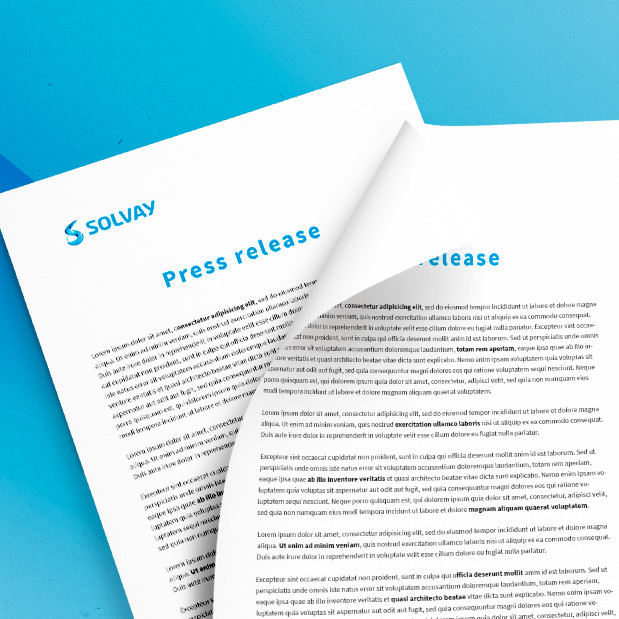 Solvay Sharing Its Market Insights and Expertise at the XXVIII International Mineral Processing Congress
Woodland Park, 6 September 2016--- Solvay Mining Solutions will share new technological devel-opments, market insights and expertise at the XXVIII International Mineral Processing Congress from 11 to 15 September at the Québec City Convention Center. This conference affords metallurgists from all disciplines of the sector to meet, exchange knowledge and best practices and capture innovative ideas from around the globe. 


"We are looking forward to our participation at this conference," says Matthew Davis, Regional Sales Director Mineral Processing.  "It is a great forum to share industry insights through our various papers and presentations and demonstrate our continued support of the mining industry by providing solutions to current challenges."
Solvay will have experts leading discussions in chemical separation presentations: 
• IMPROVING FLOTATION RECOVERY OF OXIDE COPPER MINERALS
TUE 14:00-15:00
• A CRITICAL OVERVIEW OF INTERACTIONS OF DITHIOPHOSPHINATES WITH BASE METAL SULFIDES AND PRECIOUS METALS
WED 09:40-11:00
• PROBING THE INTERFACE AND INTERPHASE REGION OF MOLYBDENITE EDGE AND FACE IN ORE FLOTATION PULPS: EFFECT OF MG2+ IONS AND THEIR HYDROLYSIS PRODUCTS
WED 11:10-12:30 
• ORTECH/IMC: AN INTEGRATED PROCESS FOR SEPARATION AND PURIFICATION OF RARE EARTH EL-EMENTS IN CHLORIDE MEDIUM
MON 15:20-16:20
• INL/SOLVAY: ENHANCED SEPARATION OF ADJACENT RARE EARTH ELEMENTS
TUE 16:30-17:10
• LAVAL UNIVERSITY: MATERIAL BALANCING AND ESTIMATION OF EQUILIBRIUM CONSTANTS: APPLICATION TO SOLVENT EXTRACTION TESTS OF RARE EARTH ELEMENTS
WED 14:00-15:00
• SOLVAY/IMC: REE MODELING ADVANCES
WED 15:20-16:20

Solvay Mining Solutions advanced mining reagents include the ACORGA® and CYANEX® lines of solvent extractants, and the AEROPHINE® flotation collectors. Solvay ACORGA® oxime-based ex-tractants are used in more than 50% of the SX-EW copper production globally. CYANEX® organo-phosphinic extractants have become industry standard in the separation of cobalt from nickel and have recently made their way into new hydrometallurgical applications such as rare earths, mo-lybdenum, lithium. AEROPHINE is manufactured based on phosphine chemistry (PH3), making them unique among sulfide mineral flotation reagent. AEROPHINE flotation collectors selectively recover targeted metals while maximizing recoveries and improve overall plant kinetics.  

Solvay Mining Solutions is a part of the Solvay Technology Solutions global business unit (GBU). Solvay Technology Solutions GBU incorporates the Mining Solutions, Phosphine Specialties, Polymer Additives and Formulated Resins businesses of Cytec with Solvay's phosphorus business line.  The combination of these businesses affords an opportunity for each business to maintain its unique leadership role while creating a strong, synergistic organization built with a team of experienced professionals focused on customer collaboration and intelligent innovation.
To learn more about Solvay's Mineral Processing and Metal Extraction product portfolios, visit us at the IMPC, booth number 210.
 Follow us on twitter @SolvayGroup   

An international chemical and advanced materials company, Solvay assists its customers in innovating, developing and delivering high-value, sustainable products and solutions which consume less energy and reduce CO2 emissions, optimize the use of resources and improve the quality of life. Solvay serves diversified global end markets, including automotive and aerospace, consumer goods and healthcare, energy and environment, electricity and electronics, building and construction as well as industrial applications. Solvay is headquartered in Brussels with about 30,900 employees spread across 53 countries. It generated pro forma net sales of € 12.4 bn in 2015, with 90% made from activities where it ranks among the world's top 3 players. Solvay SA (SOLB.BE) is listed on Euronext in Brussels and Paris (Bloomberg: SOLB:BB - Reuters: SOLB.BR).