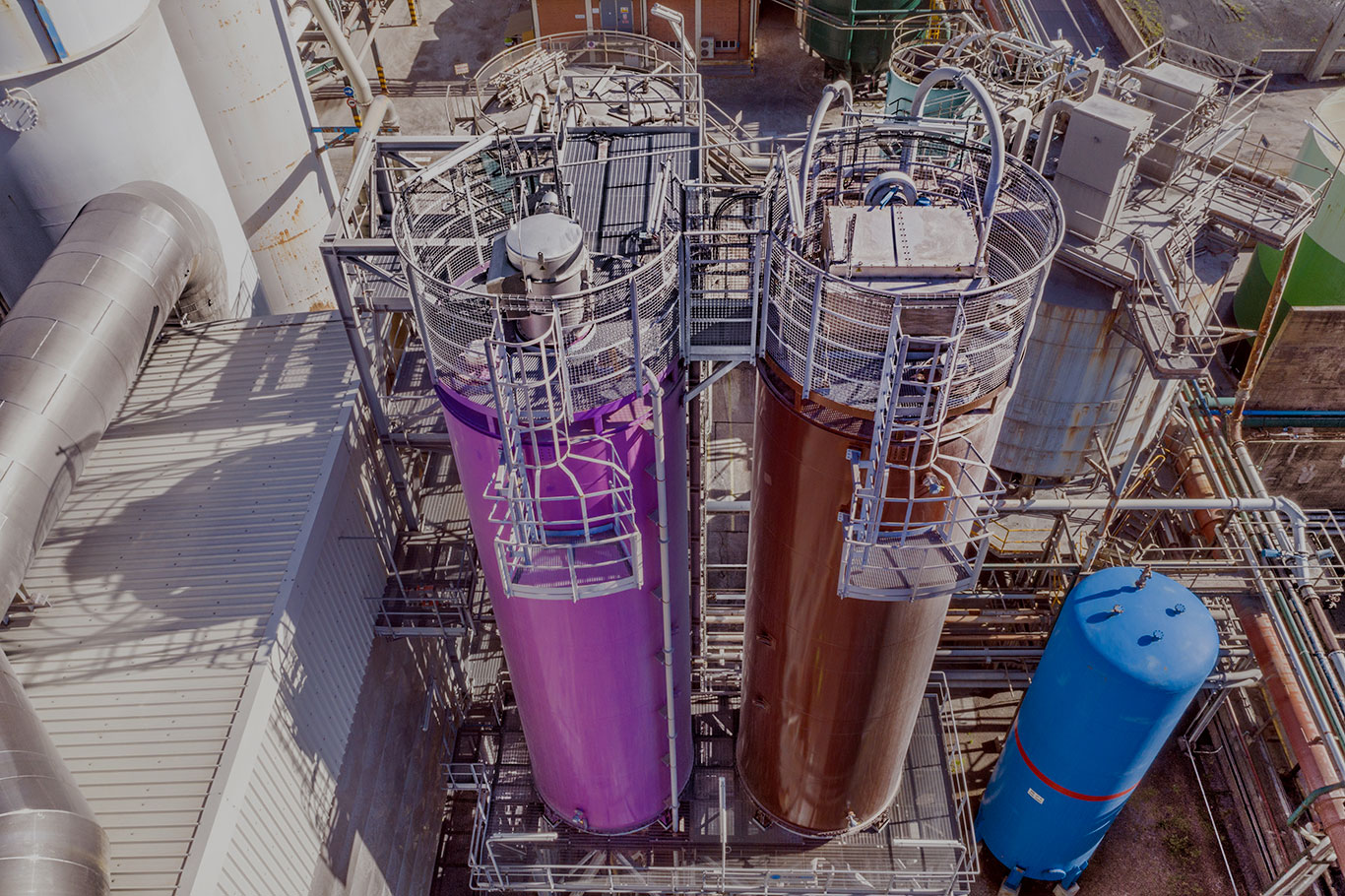 A certified solution to reduce air pollution
Industrial facilities, incineration plants, ships, an exhaust gas treatment system for all!
SOLVAir®, Solvay's solution for cleaning industrial exhaust gases, safely and reliably reduces emissions of noxious acid gases caused by highly polluting facilities such as power plants, waste incinerators and even ships. How? Thanks to an innovative solution that provides significant results: Dry Sorbent Injection (DSI).
Because of its efficiency, SOLVAir® received the Solar Impulse Foundation's World Alliance for Efficient Solutions label in 2019. It was the Group's second product to be recognized by the Foundation created by Swiss pilot  Bertrand Piccard as one that helps to sustainably create a healthier environment. It is also part of Solvay's wide range of solutions that promote resource efficiency.
SOLVAir® answers the pressing issue of atmospheric pollution by preventing the dissemination of harmful gases in the air. It is therefore an extremely positive solution from an environmental perspective.
Harnessing the power of sodium bicarbonate
The principle is quite straightforward: A sodium-based sorbent is injected straight into the exhaust, where it reacts with the noxious molecules generated by combustion (in what's called flue gases) such as Hydrochloric Acid (HCl), Sulfur Trioxide (SO3), Sulfur Dioxide (SO2), Nitrogen Oxides (NOx), but also dioxins, particulates and heavy metals. The resulting sodium chemicals can then be easily captured by a filter and removed from the facility's emissions with rates that can reach up to 99% for SOx, for example.
 
Case Study: Syctom Waste to Energy plant in France 
 
SOLVAir®'s DSI comes with a series of added benefits: sodium bicarbonate is completely safe product, environmentally and health-wise (so safe it's edible!); the resulting sodium-based salts can be recycled at Solvay's specialized facilities (to re-enter the soda ash manufacturing process); and customers can enjoy significant energy recovery and cost reductions.
Dry sorbent injection takes to the seas
SOLVAir®'s Dry Sorbent Injection system is currently implemented in a wide range of facilities around the world, from cement factories to coal power plants and waste-to-energy facilities (waste incineration plants that produce electricity). It enables operators to meet and even surpass increasingly stringent emissions regulations while increasing their energy efficiency. "As it answers the pressing issue of atmospheric pollution by preventing the dissemination of harmful gases in the air, SOLVAir® is an extremely positive solution from an environmental perspective, so it fully deserves its place as an Efficient Solution," adds Guy-Noël.
 
In 2019, it was also successfully tested for the first time on water: the Piana, a ship of the ferry company La Méridionale, which connects the French island of Corsica to the mainland, was equipped with the world's first seaborne dry scrubber in order to see how the system behaves at sea. La Méridionale was the first shipping company to add a particle filter on one of their vessels, and this experiment was closely monitored by the marine industry, which has to deal since Jan. 1st, 2020 with radically more stringent regulations imposed by the International Maritime Organization (IMO) in terms of sulfur dioxide emissions.
The results of the 6-month test were overwhelmingly positive. SOLVAir®'s objective of removing no less than 99% of SOx and particle emissions from the Piana's exhaust gases was successfully met, as SOx emissions were reduced below 0.1% (the IMO limit is 0.5%). "The results were conclusive," says Benoît Dehaye, Managing Director of La Méridionale. "This process goes well beyond the regulatory requirements of MARPOL 2020 thanks to the elimination of 99.9% of fine and ultra-fine particles, in addition to sulphur oxide."