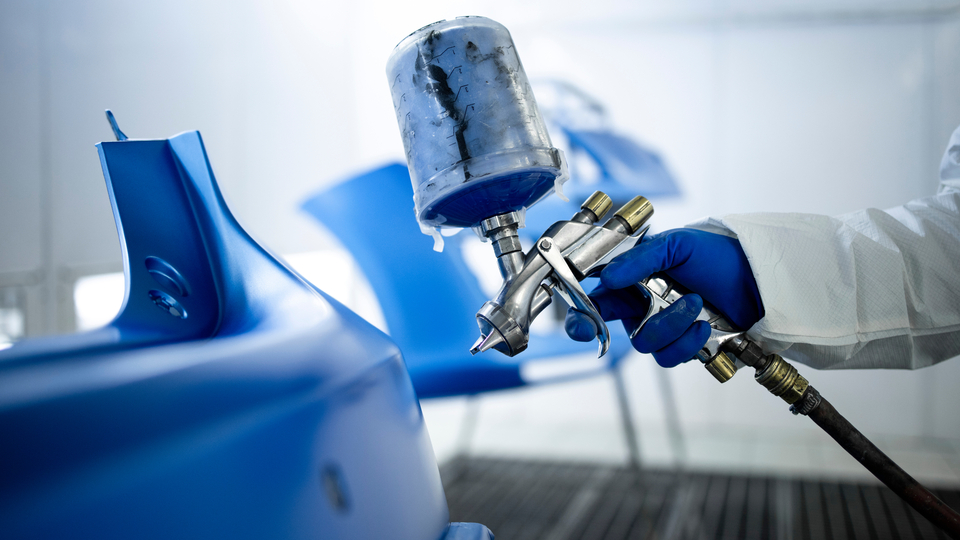 Solvay at ABRAFATI Show 2023
Solvay introduces innovative solutions aimed at enhancing the sustainability and performance aspects of its paints and coatings
Led by its strong commitment to sustainability, Solvay unveiled plans to launch five high-performing and cost-effective products for the paints and coating industry under its Latin American branch, Rhodia, at the ABRAFATI Show 2023 in São Paulo, Brazil.  
Solvay announced substantial investments aimed at increasing the production capacity of sustainable chemicals designed for paints and varnishes. Leveraging its cutting-edge research and innovation capabilities, the Group also introduced a range of new products to address evolving industry needs. The latest product offerings include:
Solsys® COAT IBA

: a biodegradable solution within Rhodia's Oxygenated Solvents line, Solsys® COAT IBA delivers exceptional solubilization efficiency and high performance for coating formulations tailored for applications in automotive, industrial, and wood refinishing.

Solsys® Coat MA: 

a high-performance product offering economic benefits for paint and varnish formulations across automotive, OEM, industrial, and wood refinishing markets.

Hexylene glycol: p

rimarily serving as a low-odor, biodegradable solution for water-based formulations, Hexylene Glycol functions as a coalescing agent and leveling solvent, providing an excellent option for pigment dispersion.

Rhodiacid® Carbon Neutral: t

he first carbon-neutral adipic acid produced at Solvay's industrial unit in Paulínia (SP), marking a significant step towards sustainability in the industry. 

Rhodiaeco®

: a high-performance solution specifically crafted for the leather treatment industry.
"In unveiling these innovative products, Rhodia, a key branch of Solvay, reaffirms its steadfast dedication to providing optimal solutions for the paints and coatings market," stated Andrea Jara, Commercial Director of the Coatis Global Business Unit within the Solvay Group. "These offerings not only address the evolving requirements for innovation, performance, and cost-effectiveness but also align seamlessly with the imperative of advancing sustainability. Our recent introduction of the first carbon-neutral product portfolio for the Brazilian chemical/textile industry is a source of particular pride, and we look forward to expanding it further with the integration of new oxygenated solvents."
At the ABRAFATI Show 2023, various business units within the Solvay Group, beyond Rhodia, also seized the opportunity to unveil new and improved products tailored for the paints and coatings sector: 
Reactsurf® 2490: a polymerizable surfactant, excels as the primary emulsifier for acrylic latex and styrene-acrylic systems. Crafted for pressure-sensitive adhesives and paints, it ensures high water resistance while addressing surfactant leaching challenges.
Rhodapex® BSA 300: a surfactant free from alkyl phenol ethoxylate produced at Itatiba (SP), which offers unmatched versatility in polymerization applications. 
Addibond™ 

line: eco-friendly polymers enhance adhesion in adhesives and inks, improving corrosion resistance and product longevity. Formulated for reduced resource consumption and waste, it provides a sustainable, cost-effective solution for the metal treatment industry.
"Solvay remains dedicated to investing in the Brazilian market," said Leandro Alves, Coatings Business Development Manager - Solvay Novecare. "The Itatiba facility, in particular, has emerged as a dynamic hub of innovation within the Solvay group, particularly in the fields of surfactants and specialty monomers. We are actively allocating resources to expand both our production and storage capabilities, while incorporating new pioneering technologies to further drive advancements in our industry."
For more information about Solvay's new and existing products, join our upcoming talks or stop by the Solvay | Rhodia Booth.
Service: ABRAFATI Show – International Coatings and Coatings Suppliers Exhibition
From November 21 to 23, 2023 - São Paulo Expo (Rodovia dos Imigrantes, Sao Paulo
Exhibition: from 11 am to 8 pm. Congress: from 11:00 am to 5:00 pm. (with Plenary Sessions at 9:15 am)
Rhodia – Solvay Talks
1 – Session 02 – 11/21 – 11:00 am to 11:40 am
Waterborne Coatings - Improving the Water Resistance of Waterborne Formulations Using Polymerizable Surfactants
Leandro Alves – Coatings Business Development Manager – Solvay Novecare
2 - Session 10 – 11/22 – 11:45 am to 12:25 pm
New Materials - High performance solutions with a focus on functionality, safety and competitiveness
Diana Tosto - Technical Development Specialist in the Solvents area at Solvay Coatis
Contact us
Kimberly King
Media relations Manager
Cristiane Vendrame
Global Marketing Communications
About Solvay
Solvay is a science company whose technologies bring benefits to many aspects of daily life. With more than 22,000 employees in 61 countries, Solvay bonds people, ideas and elements to reinvent progress. The Group seeks to create sustainable shared value for all, notably through its Solvay One Planet roadmap crafted around three pillars: protecting the climate, preserving resources and fostering a better life. The Group's innovative solutions contribute to safer, cleaner, and more sustainable products found in homes, food and consumer goods, planes, cars, batteries, smart devices, health care applications, water and air purification systems. Founded in 1863, Solvay today ranks among the world's top three companies for the vast majority of its activities and delivered net sales of €13.4 billion in 2022. Solvay is listed on Euronext Brussels and Paris (SOLB). Learn more at www.solvay.com.
Press contacts about the Solvay Group and Rhodia in Brazil
Roberto Custódio – roberto@pexpress.com.br
Marcela de Paula – marcela@pexpress.com.br
Tel. (+55) 11 3284 5164 or mobile (+55) 11 999 33 8148